Welcome to Durham School for Girls Admissions.  We are happy to know that you are interested in joining our Durham Family.  Due to high demand for places, please make sure you fill in an application form as soon as possible in order for us to arrange an assessment and interview if we have places or to join the waiting list and secure you place for future vacancies.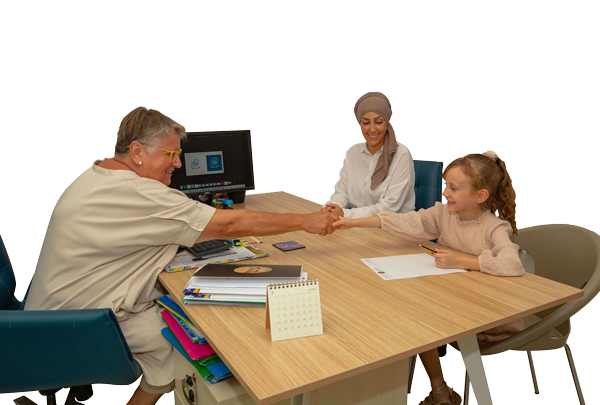 Durham School for Girls Doha is an All-Girls British school based in Doha, Qatar and is a sister school of Durham School UK.
Offers of places are based on a judgment about whether a child will thrive in our educational environment. Thus, the later the stage in a child's school career when an application is made, the more likely it is that there will be a requirement for existing proficiency in spoken and written English.
Children may be admitted to any year group provided that there is space, though entry into either Year 11 or Year 13 needs to be approached with caution since these years are the second phases of two-year courses.
For the purposes of entry applicants' ages are calculated according to the English National curriculum custom, with a 1st September date watershed. In cases where applicants apply from a different education system or country, the year group on entry will be considered sequentially according to their previous education system.
In exceptional circumstances, an applicant may have fallen behind in his/her education due to illness, time spent abroad, etc. In such a case, the School may offer a place in a year lower than the applicant's age would normally imply. Parents will need to sign a letter saying that they consent to this. Once a girl is placed in a lower year group, they will then not be able to skip a year in the future and return to their age range class.
Parents or guardians will be consulted before such an offer is made, but the decision as to the appropriate year for the applicant, taking into account all the relevant circumstances, is a matter for the Head, whose decision is final.
This policy and its procedures have been authorised by the Board of Durham School for Girls Doha. The Board delegates authority to the Heads of the schools to identify applicants whose academic and other abilities appear to match the ethos and standards of the schools, and whose personal qualities suggest that they have the potential to contribute sufficiently to the school community and benefit from the many opportunities that are offered.
This policy is for guidance and will be adapted by the school from time to time as circumstances require.
Most sections of this policy apply to all Durham Schools. The sections covering procedures vary slightly between schools.